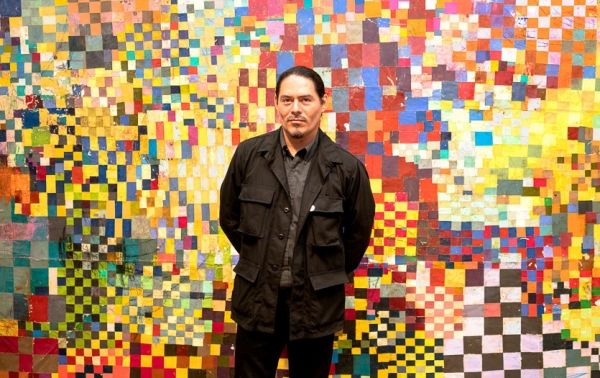 William Cordova
Datos biográficos

Nació en 1971 en Lima, Perú

Reside en Nueva York, New York, Estados Unidos

Vive y trabaja en Lima, Nueva York y Miami. Ha tenido exposiciones individuales en Sikkema Jenkins & Co., NY; Fleming Museum, University of Vermont, Burlington. 2008: OK Mountain, Austin; Artpace, San Antonio, Tejas; Threewalls, Chicago. 2007: Arndt & Partner, Zurich. 2006: Arndt & Partner, Berlin; PS1 Contemporary Art Center, NY. 2003: Museum of Contemporary Art, Miami. 2002: Institute of Contemporary Art, Winnipeg. Entre otras, su obra ha sido incluida en 2010: The Record, Nasher Museum, Duke University, Durham; Greater New York, PS.1 Contemporary Art Center, NY. 2009: Trienal de San Juan, Instituto de Cultura Puertorriqueña, San Juan; NeoHooDoo, Miami Art Museum, Miami; Dialogue in the Urban Landscape MoCA, San Diego. 2008: Bienal del Whitney, NY; Trienal de Praga; Street Level, Massachusetts Institute of Contemporary Art, Boston; NeoHooDoo, Menil Collection, Houston - PS1 Contemporary Art Center, NY. 2007: Street Level, Nasher Museum, Duke University, Durham. 2006: I wish it were True, Jamaica Center for The Arts & Learning, Queens, NY; The Beautiful Game, Roebling Hall, NY. 2005: I Wish it Were True, Project Row House, Houston; Scratch, The Studio Museum in Harlem, Nueva York. 2004: Thesis Exhibition, Yale University, New Haven. 2003: Altoids Curiously Strong Collection, New Museum, NY; Bienal de Venecia. 2002: Americas Remixed, Faborica de Vapore, Milan; Mass Appeal, Arts Intercultural, Quebec. Bio (english) Born in 1971 in Lima, Peru, William Cordova earned a BFA from the Art Institute of Chicago (1996) and an MFA from Yale University, New Haven (2004), and spent a year at the Skowhegan School of Painting and Sculpture, Maine (2003). Cordova's practice employs a variety of media to capture a sense of everyday experience and history, found objects, and their complex relationship to one another. Cordova treats found objects as carriers of their own particular memories; by juxtaposing these symbols, his work offers new cross-cultural narratives that resist the traditionally linear understanding of history. Having lived in Lima, Miami, Chicago, Houston, and New York, Cordova's practice reflects various modes of cultural flux and changes in perspective experienced during his upbringing. For his sculpture Greatest Hits (para Micaela Bastidas, Tom Wilson y Anna Mae Aquash) (2008), Cordova created a column of 3,000 vinyl records that towers above scattered items such as Peruvian gourds, pennies, a cigar, and a VHS tape. Cordova's tower can be seen as a kind of musical obelisk, in which each unit contains a specific cultural and historical memory. Essential to this work is an understanding of vinyl as a medium whose distinctive sound was replaced by the clarity of digital recording. Greatest Hits asks its audience to consider the significance of records as projectors of historical sound for a modern audience. In this one's 4 u (pa' nosotros) (2010), Cordova plays with the viewer's perception by forcing one to synthesize incongruous sensory stimuli. Projected behind a wooden viewing structure, the work combines the 35mm slide film of Peter Spirer's 2002 documentary on rapper 2pac (Tupac Amaru Shakur) with the audio from Federico García Hurtado's 1984 documentary on Tupac Amaru, the last indigenous Incan monarch in Peru. this one's 4 u contextualizes seemingly disparate historical narratives into a singular experience that reveals associations and juxtapositions across cultures and time. Cordova has been an artist in residence at such institutions as The Studio Museum in Harlem, New York (2004); Museum of Fine Arts, Houston (2007); and University of Texas, Dallas (2011). His first solo exhibition took place in 2003 at the Museum of Contemporary Art, Miami, and since then his work has been shown in Latin America and Europe, as well, presenting his first solo museum exhibition in Europe at La Conservera, Murcia, Spain (2011). Cordova has participated in many group exhibitions, including those at the Whitney Biennial, New York (2008); Instituto de cultura puertorriqueña, San Juan, Puerto Rico (2009); P.S.1 Contemporary Art Center (now MoMA PS1), New York (2010); and Nasher Museum, Duke University, Durham, North Carolina (2010), among others. He has received numerous grants and awards, including those from Art Matters (2009) and Joan Mitchell Foundation (2011). Cordova lives and works in Miami and Houston.
---
Exposiciones
Exposiciones en las que ha participado como artista William Cordova
Exposiciones actuales (2)
Próximas exposiciones (1)
Exposiciones individuales
Exposiciones colectivas
---
Ferias a las que asiste William Cordova
ArteBA / Buenos Aires, Argentina

Untitled Art / Miami, Florida, Estados Unidos
---
Premios
Premios recibidos por William Cordova
---
Galerías y otras organizaciones que representan a William Cordova
Nueva York, New York, Estados Unidos
---
Organizaciones (Museos, galerías, ...) con obra de William Cordova
La Habana, Ciudad de la Habana, Cuba

Pozuelo de Alarcón, Madrid, España

Cambridge, Massachusetts, Estados Unidos
VER TOD@S
---
Noticias relacionadas con William Cordova
---