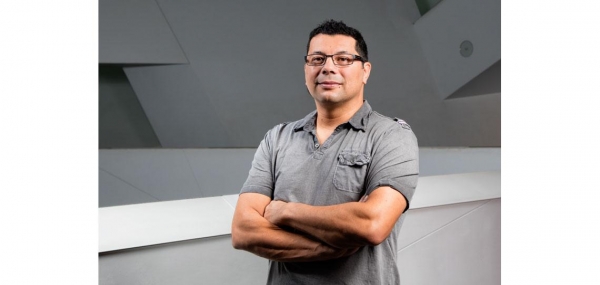 Ruben Ochoa
Datos biográficos

Nació en 1974 en Oceanside, California, Estados Unidos

Reside en Los Angeles, California, Estados Unidos

Ruben Ochoa (born 1974) studied at the University of California, Irvine (MFA, 2003), Otis College of Art and Design, Los Angeles (BFA, 1997), and the Parsons School of Art and Design, New York City. He was included in the 2008 Whitney Biennial at the Whitney Museum of American Art, and the 2004 California Biennal at the Orange County Museum of Art. Ruben Ochoa's interdisciplinary practice includes sculpture, site-specific and site-responsive installations, photography, drawing, and public intervention. An aspect of his work touches upon the urban surrounding of the city, the tension between social classes, urban architecture, and nature. He mostly uses a range of materials including basic building materials such as rebar and concrete. He has had solo exhibitions at the Museum of Contemporary Art, San Diego, California, Charles H. Scott gallery at Emily Carr University of Art and Design, Vancouver, British Columbia, Canada (2009) and SITE, Santa Fe, New Mexico (2009). Ruben Ochoa is represented by Susanne Vielmetter Los Angeles Projects. Ruben Ochoa is a multi-disciplinary artist whose sculptures, installations, paintings and photographs explore the domineering forms and manufactured contours of the urban landscape. He lives and works in Los Angeles, where the boundaries of urban life are forged from industrial materials such as concrete, rebar, and excavated earth. In works that defy expectation, Ochoa liberates these materials from their usual incarnation – the lead-footed foundations and impenetrable barriers that dictate access and movement within our cities. He breeches the perimeter of the built environment to give us a glimpse of life beyond the walls. He exposes our urban constructs and their role in controlling, isolating and marginalizing nature and people. Through the newly-punctured holes in our urban cocoon, we see the natural environment without, a resilient, organic presence pushing back against the tread of humanity. And we see the potential for poetry and beauty in the raw materials of our metropolis.
---
Exposiciones
Exposiciones en las que ha participado como artista Ruben Ochoa
Exposiciones colectivas
Denver Art Museum / Denver, Colorado, Estados Unidos
---
Galerías y otras organizaciones que representan a Ruben Ochoa
Culver City, California, Estados Unidos
---
Noticias relacionadas con Ruben Ochoa
---