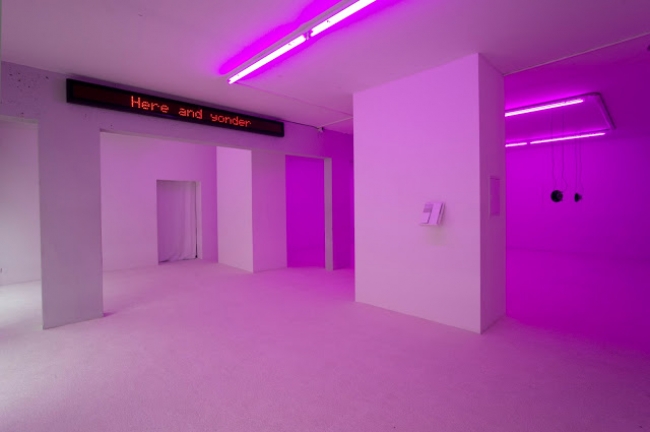 Diana Policarpo
Datos biográficos

Nació en 1986 en Lisboa, Portugal

Reside en London, London, City of, Reino Unido

Diana Policarpo is a visual artist and free composer based in London and Lisbon working in drawing, score, sculpture, performance and multi-channel sound installation. She graduated from Goldsmiths College with a MFA in Fine Art in 2013. Her work investigates power relations, popular culture and gender politics, juxtaposing the rhythmic structuring of sound as a tactile material within the social construction of esoteric ideology. She creates performances and installations to examine experiences of vulnerability and empowerment associated with acts of exposing oneself to the capitalist world. As well as working on solo projects she often collaborates and has recently made live performances with Scratch Orchestra, Hákarl, Áine O'Dwyer, AAS, Cabiria, Erinyes and The Orchestra of Futuristic Noise Intoners. Her sound and installation work has been shown in solo exhibitions at Kunstverein Leipzig, DE (2017); lAB Artists Unlimited, Bielefeld, DE (2016); Xero, Kline and Coma, London, UK (2015); Kunsthalle Baden-Baden, DE (2014); and Kunstverein Leipzig, DE (Upcoming). Her work has also been included in recent group exhibitions at Guest Projects, London (UK); Francisco Fino Gallery. Lisbon (PT), Mars Gallery, Melbourne, AU (2017); North Gallery, New Castle, UK (2016); Peninsula Gallery, NYC (2015); W139, Amsterdam, NL (2015); Shaun Fenster, Berlin, DE (2014); AN/DOR, London, UK (2014). Policarpo has recently presented performances and given readings at LUX - Moving Image, Tenderpixel Gallery, Institute of Contemporary Arts (ICA), Cafe OTO, Pump House Gallery and IMT Gallery in London.
---
Exposiciones
Exposiciones en las que ha participado como artista Diana Policarpo
Exposiciones actuales (1)
MACE - Museu de Arte Contemporânea de Elvas / Elvas, Portalegre, Portugal
Exposiciones individuales
Kunstverein Leipzig / Leipzig, Sachsen, Alemania
Exposiciones colectivas
MACE - Museu de Arte Contemporânea de Elvas / Elvas, Portalegre, Portugal
---
Organizaciones (Museos, galerías, ...) con obra de Diana Policarpo

---
Profesionales con obra de Diana Policarpo
Nació en 1954 en Elvas, Portalegre, Portugal, Reside en Elvas, Portalegre, Portugal
---
Noticias relacionadas con Diana Policarpo
---